February 5th 11 a.m. – 5 p.m.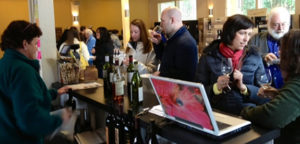 For twelve years now I have been hosting a party on Super Bowl Sunday. I pile lots of brats onto my smoker/grill right in the parking lot of the Wine Outlet and let them get all smoky and delicious and then I open bottles of wine. And what kind of a Wine Outlet party would it be if I didn't put some
great wines on sale at ridiculous prices? So there will be lots of great smokey brats, cheap wines and plenty of fun. Kids and friends are welcome and you can be home in plenty of time for the kick-off. No reservations are needed just stop by when you can (early if you want the sale wines). There is no charge.